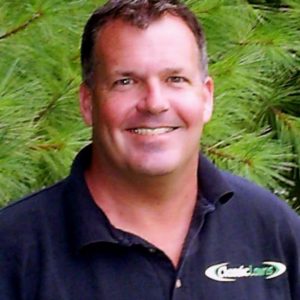 Cary Carlson – Owner
The line grass growing, outdoor loving, hardworking, lawn care experts really defines who I am and what I love to do.  I founded Classic Lawns in 2005.  I had been working in the lawn care industry since 1992.  After working for some of the bigger lawn companies, I knew I could do better.  I learned a lot about grass and lawn care working for some of those so called big companies, but more importantly I learned what not to do and be.  So, I started Classic Lawns to provide customers with lawn care with better service, better products, and most importantly better ethics!  My promise to every customer is to give you the greenest lawn possible while controlling weeds, insects and disease!  Most importantly I strive to always do the right thing for you, your lawn and your wallet!
Lawn Care is a passion for me, but let's face it folks, lawn care is not rocket science. It is not difficult to push a spreader across your lawn. In fact, I often say I can train a well-trained monkey to push a spreader. What makes Classic Lawns different is our ability to recognize, diagnose and fix problems that arise on your lawn! Our exclusive One Earth Lawn Care Program will deliver a thick, green weed free lawn guaranteed.  Our GREEN GUARANTEE is that if you are not satisfied with a service, we will keep working with you until you are.  If we can not resolve it, we will give you your money back!
We use environmentally friendly fertilizers and we minimize the use of pesticides. Call us today for a FREE estimate. Or, drop us an e-mail.  Classic Lawns works in the Springfield, MO Area!  Find us on Facebook!
When I am not making your lawn a dark-green, lush, masterpiece, I am probably near a river or a lake canoeing or riding a jet ski.  You might also catch me around town supporting live, local music!