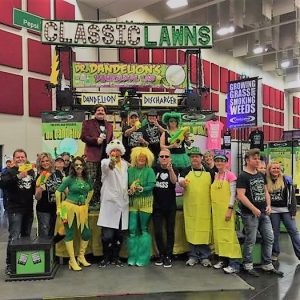 Be a Part of the Gang with ClassicLawns at the Sertoma Chili Cook Off!
You have seen our crazy booths, you have seen the costumes, and you have seen the ClassicLawns stage.  You know we have the BEST spot at the Cook Off and you know we have the best view of all the bands and the whole chili cook off from our elevated ClassicLawns stage. 
Now you too can be a GRASS HEAD!  We affectionately call our helpers GRASS HEADS!  Be a part of the fun and help raise money for kids in Springfield at the same time!  We can always use volunteers to help us at our booth.  Work the entire event or just help us out for a couple of hours.  All GRASS HEADS get FREE admission to the Cook Off,  a GROWING GRASS AND SMOKING WEEDS T-Shirt, and 2 free drink tickets.  PLUS, you get to be at the coolest booth with the coolest people at Springfield's biggest PARTY! 
Want to join us?  Give Cary a call at 417-812-5321 or email us at cary@classiclawns417.com.
Thanks for your support and for helping us raise money for Springfield Children!